5 Powerful Natural Mood-Boosters for Better Days
Woke up on the wrong side of the bed? Discover 5 powerful natural mood-boosting ingredients that can help you reset your day.
Our moods are subject to the fluctuations of hormones, life events, and whether they had oat milk at the coffee shop that morning. A great state of mind is key for optimal wellness, increased productivity, and a happier life — so finding new ways to support your mood can be game-changing. We've gathered our 5 favorite mindset-enhancing supplements for your reading pleasure. Consider this your Great Day Cheat Sheet.
Hemp
Hemp has taken the wellness world by storm in recent years. It can naturally support mood, stress, rest, and wellbeing*.
Ashwagandha
These days, you can find Ashwagandha in everything from souped-up smoothies to daily supplements to mood-boosting teas. Ashwagandha is a medicinal herb that helps support everything from mood to brain function*. It's known as an adaptogen, a compound that has been known to promote homeostasis in the body*.
Ginseng
Used in Traditional Chinese Medicine for hundreds of years, Ginseng is a root known for its anti-inflammatory and antioxidant effects*. It has been shown to help fight mental fatigue, boost energy, and help with stress*.
Gingko Biloba
Fun fact: Gingko Biloba is an extract from the leaf of an ancient tree. Like Ginseng, it's been used for centuries in Traditional Chinese Medicine to help support brain function and memory recall, as well as perceived wellbeing*.
CoQ10
CoQ10 is an antioxidant nutrient that our cells use to maintain power and performance*. It helps to generate energy in your cells and protect them from damage, and has been proven to support mental health*.
A better state of mind means better days ahead. Not only can these supplements improve your wellbeing, they can also help to enhance your productivity and concentration, which can lead to an even better mood (and the cycle continues).
Find all these mindset-boosting compounds in one capsule: Focus for energy + productivity.
by Samantha Colicchio
Shop Focus: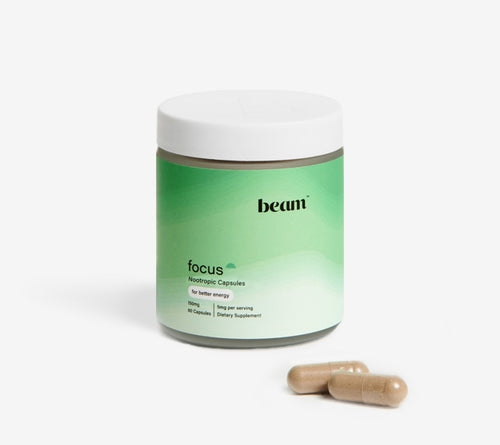 ---