Tia Booth Talks Chocolate-Covered Strawberry Dream
Beam partners and power duo Tia Booth and Taylor Mock created a delicious new custom flavor of Dream Powder: Chocolate-Covered Strawberry. We sat down with Tia to get the 411 on the collaboration, life as a new mom, and how Dream has helped her get the best sleep of her life.
Beam: Why do you take Dream?
TB: It's important to me to prioritize sleep. I require a lot of good-quality sleep in order to function the next day. I'm able to run my business and be better for my family if I get a good night's sleep the night before
I take Dream specifically because it truly gives me the best sleep of my life without feeling groggy or overtired the next day. The quality of sleep is so much better when I use Dream. I also love that Dream actually tastes good, so it's super easy to incorporate this into a night-time routine. It's like having a dessert or fancy hot chocolate that actually tastes good and puts you right to sleep. It's my "night-time juice."
Beam: What's your night-time routine?
TB: Taylor and I never go to bed without the other, so we always get ready for bed together, brush our teeth together, and Taylor will make Dream for both of us—a cup for me and a cup for him. He mixes it up for us, brings it to bed, and we go chill in bed, drink our Dream, and go to sleep.
Beam: How do you and Taylor make your nightly Dream?
TB: Taylor makes it for me. Stuff always tastes better when someone makes it for you, but Taylor has it mastered. Hot almond milk is my favorite, with the Dream frothed in there, mixed really well. But hot milk always.
Beam: What's your goal in 2023?
TB: This year, my goal is to be the best version of myself so I can be in the best physical and mental space for me, and for my family. In order to do that, I need good sleep.
Beam: How has Dream helped you as a new mom?
TB: As a new mom, I knew I wouldn't be getting a whole lot of sleep, but when I am asleep I want to make sure I'm sleeping really hard. Dream has saved me as a new mom because I know I'm going to drink it, fall asleep, stay asleep and wake up feeling fully rested and prepared for the next day of challenges. Truly, truly the best night of sleep I've had is when we tried our new flavor of Dream. I slept from 10pm-6am and felt so good the next day. I was able to fully dive into being a new mom because I feel fully rested. 
Beam: What have you learned from being a new mom?
TB: What I've learned being a new mom is that the best version of me is going to be the best version for Tatum. I really need to take care of myself mentally and physically in order to best take care of my new baby. Sleep is very, very important for that. I can be my best self when I'm more rested. That way, we have better days and we can enjoy this newborn phase. I want this year to be about being in my best physical state and mental state in order to be the best version of myself for my family.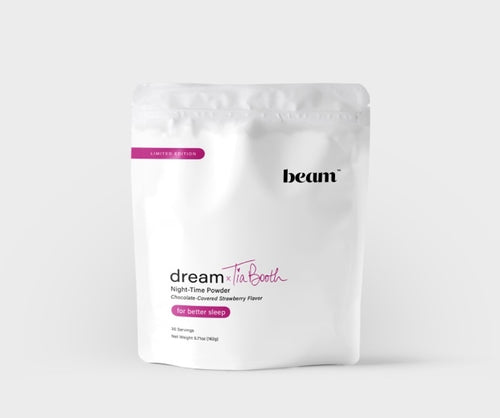 ---