The Official Beam 2022 Holiday Gift Guide for Budget-Friendly Gifts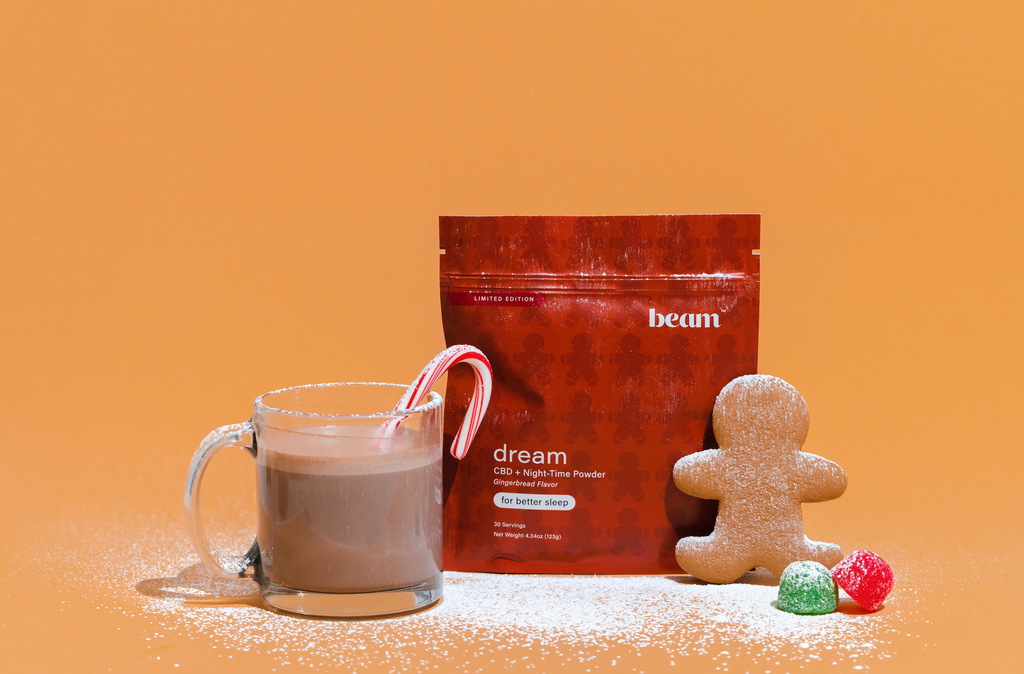 We know you're trying to spend a little less this year. Below, find our budget-friendly, cyber-discounted recommendations for the top Beam essentials that everyone (yes, everyone) on your list will love.
Budget-Friendly Gifts for Every Personality Type
It's the 2022 holiday season, and everyone's on a budget. If the search for high-quality, budget-friendly gifts has you scratching your head, look no further. We've compiled our bestselling products in our 2022 Holiday Gift Guide.  Plus, you can shop all these products 20% off during Cyber Season for easy holiday shopping that your wallet will thank you for!
Keep reading to learn what Beam products we recommend for all the personality types on your list.
For: people with demanding jobs, personal growth enthusiasts, and people who are obsessed with wellness
The One (as low as $34.72 at checkout)
Why they'll love it: Our bestselling tincture, The One, is here to help your favorite people reach balance and calmness, from day to night. This product contains high-quality hemp blends with grape seed and hemp seed oils for optimal absorption—which means they'll feel the benefits better and faster. When taking The One, 92% of people felt a noticeable sense of calm† and 84% of people felt their mood improve.†
What they're saying: "My miracle in a bottle." -Lorraine H., Verified Beam Customer
For: remote workers, high-powered executives, and stressed out students
Focus Capsules (as low as $42.16 at checkout)
Why they'll love it: Focus Capsules are loaded with revolutionary and time-tested compounds like Nano Hemp, CoQ10, Ashwagandha, and Lion's Mane for calm, focused energy. Help your high-strung loved ones jumpstart their day to power through their to-do list without the coffee jitters with this gift!
What they're saying: "Life changing little capsules. Amazed by how efficient it was for me. I ordered without really believing that it would make a tremendous change in my mood/behavior-I was proven wrong!" - Gaelle T., Verified Beam Customer
For: sleepless parents, seniors who have trouble sleeping, and workaholics who can't wind down
Dream Powder (as low as $47.12 at checkout)
Why they'll love it: Our best selling, internet-breaking Dream Powder hot cocoa is both life-changing and delicious. It's clinically shown to improve your sleep, and it's made with 5 natural ingredients so users won't wake up groggy. Dream Powder comes in flavors ranging from Original Cinnamon Cocoa to seasonal classics like White Chocolate Peppermint, and now, scrumptious Gingerbread.
What they're saying: "I have had problems sleeping for years! I have been on all kinds of meds and most recently something that should have knocked me out for 10-12 hours. It did nothing. I decided to try Beam and from the first night to now (2 months later) I have never slept so well in my life!" -Brandy H., Verified Beam Customer
Stocking stuffers
For: teachers, coaches, neighbors, dog trainers, and anyone who makes your week brighter
Winter mug (Available at checkout; $15)
Dream 10 servings (Available at checkout; $35)
Pumpkin 10 servings (Available at checkout; $35)

Why they'll love it: This year, skip the one-size-fits-all candles and load your people up with wellness gifts that'll give them more than just a nice-smelling living room. Plus, this mug makes for a great stocking stuffer! For an easy gift idea, pair our winter mug with a 10-serving Dream bag in Original or Pumpkin Spice. The mug will become an instant cabinet favorite, and it's the perfect way for all your people to try our best selling Dream Powder!
Shop Beam This Holiday Season
No matter who is on your list, give the gift of all-natural, high-quality hemp products this holiday season. Beam Organics is your one-stop-shop for all the best wellness gifts that both your loved ones and wallet will appreciate. Happy Shopping!
---